The La-Z-Boy Family Concert Series
Celebrating Over Four Decades of Family Entertainment

Located in the New and Heated Outdoor
Christmas in Ida Theater Center
Presented by
Directions Credit Union
Country Music Concert
Tyler Rich

Country Artist Tyler Rich named "the one to watch"
The Country Music Concert will be headlined with high energy country music artist Tyler Rich presented by Meijer, Inc.
Rich brings a new contemporary sound to country music with a strong voice and mixture of country twang with a pop feeling that delivers heartfelt romantic music.
Rich will perform his hits Better Than You're Used To, Real Love, Bottom of This Bottle, Thinkin We're in Love, Radio, The Difference, Leave Her Wild, and Trucks Don't Lie.
His single The Difference has charted on Hot Country Songs and Country Airplay and was certified Platinum by Music Canada and Gold in the United States by RIAA.
Rich scored three No. 1 hits on SiriusXM The Highway with his debut album Two Thousand Miles including Gold certified The Difference.
Fans worldwide recognize Rich's easy-going personality and spirted energy as a genuine country singer/songwriter that exemplifies the common good of all people. Tyler Rich was born in Yuba City, California, a rural community in the northern part of California known for its agriculture. He grew up in a household where Christmas was celebrated with family sing-alongs where he developed an appreciation for both Yuletide carols and classic rock. As his passion for music grew, he became a country music fan of Garth Brooks, George Strait, and Allan Jackson. After high school Rich graduated from college with a degree in economics. However, his dream of making music relocated him to Los Angeles and finally to Nashville where he perfected his music style. Influenced by Creedence Clearwater Revival, Rich has toured with Cole Swindell, Brett Eldredge, Justin Moore, and Dan + Shay.
While touring Tyler Rich likes to visit animal shelters to raise awareness for pet adoption. Rich is an advocate for pet rescues and created his own organization Rich Rescues, which helps to find pets permanent homes.
Details:
DAY: Saturday, Dec. 2, 2023
TIME: 5:00 PM | COST: Free
LOCATION: Ida Township Parking Lot – Downtown on Lewis Avenue
Young Country Music Concert

Presented by


.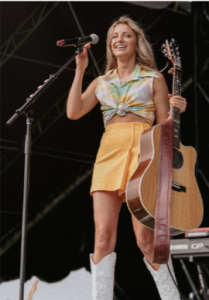 Halle Kearns a rising star from Columbia, Montana has been making waves since her country music debut in 2020. Kearns has established herself in country music through her honest songwriting, engaging performances, and authentic fan appeal.
Having garnered over 6.6 million global streams, her debut EP 'Finally' released in 2020 set the tone for her career. Since its release, "Finally" had songs included on DSP's top country editorial playlists including Hot Country, New Boots, and Wild Country that reached number 7 on U.S. ITunes charts, and her single Whatever You Do was featured on Sirius XM's The Highway.
Kearns released her sophomore EP Every Girl in 2022. Which includes her single Happy in This Bar that has over 7 million global streams and a music video that landed her a CMT debut. Her latest release Moment is getting much play and appeal.
Kearns has taken country music to a new and exciting level that is gaining global recognition.
With a clear vision for her future, an undeniable drive, and a rapidly growing audience, Halle Kearns has only just scratched the surface of her career potential.
Details

:
DAY: Saturday, Dec. 2, 2023
TIME: 4:00 PM | COST: Free
LOCATION: Ida Township Parking Lot – Downtown on Lewis Avenue
Public Meet and Greet after Concert Located in the Partners Tent
Friday Night Concerts
Commemorative Concert
Detroit Opera Youth Chorus
Presented By:
Senator Joe Bellino
State Representative William Bruck
State Representative James DeSana
State Representative Dale W. Zorn
Dale Biniecki

Detroit Opera Youth Choir in the Grand Lobby of the Detroit Opera House
The mission of the Detroit Opera Youth Chorus is to provide exceptional choral music and theatrical performance instruction in a professional environment to young people. This instruction will foster their creativity, personal expression, and social growth. Offering a curriculum that embraces diverse cultures and traditions and a rich and extensive range of musical genres, the program will seek to instill personal and artistic excellence in its students. In keeping with its role as a major cultural resource to the entire community, Detroit Opera will offer these unique learning opportunities to a diverse group of students from varied economic, cultural, and social backgrounds.
The Detroit Opera Youth Chorus performs as a separate ensemble as well as with international opera stars in Detroit Opera mainstage productions. Past performances have included the Detroit premiere of Seymour Barab's The Maker of Illusions, the Detroit premiere of Cary John Franklin's The Very Last Green Thing, Malcolm Williamson's The Happy Prince, Gilbert and Sullivan's H.M.S. Pinafore and Hans Krása's  Brundibár  with Ela Stein Weissberger, a Holocaust survivor and original cast member.
Other productions includes The Nutcracker at both the Detroit Opera House and the Fox Theatre and the mainstage productions for Michigan Opera Theatre's Carmen, Tosca, La Bohème, The Magic Flute, and Carmina Burana.   The Detroit Opera Youth Chorus enjoyed guest concert appearances with Andre Rieu at the Fox Theatre, the Detroit premiere of Anne LeBaron's  Sukey, a work for string quartet and children's choir with the Scarab Chamber Ensemble at Marygrove College and Wayne State University, and The Star Spangled Banner and God Bless America at several Detroit Tigers' Games at Comerica Park.
Community appearances have included numerous holiday presentations in the Detroit Metropolitan area, America's Thanksgiving Day Parade, Random Acts of Culture throughout Detroit and the Detroit and Partridge Creek Tree Lighting Ceremonies.  The chorus were invited to perform in concerts for the Franklin Community Church's Vespers Concert Series and previously at the Christmas in Ida Festival
The Detroit Opera Youth Chorus is directed by Detroit Opera Chorus Master Suzanne Mallare Acton, Assistant Directors Dianna and Jane Panikkar.
Details:
DAY: Friday, Dec. 1, 2023
TIME: 7:00 PM
LOCATION: Ida United Methodist Church – Ida East Road
RECEPTION: Immediately following the Concert at St. Joseph Catholic Church Hall
In true Christmas in Ida tradition, all concerts are free with many opportunities to meet the stars of the concerts.
Jingle Bell Rockout Concert
Presented by
STAR Towing and Recovery 
Zorn Towing and Recovery
It's a Holiday rocking good time with five regional bands performing rock and country music in the heated outdoor Christmas in Ida Theater Center.
Spend an evening or a few hours enjoying the music or dancing to several genres of great music.
The concert will feature Ellipsis (Rock), Texas Pete and The Revolutions (Rock), Home Town (Country), Candor (Rock), and The Boy Detective (Rock).
The bands hail from Michigan and Ohio and each have performing members from the Ida community.
The collection of bands will each perform 30 minutes of music then quickly change sets and continue the show.
This concert will scream with rocking Holiday excitement.
Details
DAY: Friday, Dec. 1, 2023
TIME: 5:00 PM
LOCATION: Ida Township Parking Lot – Downtown on Lewis Avenue
In true Christmas in Ida tradition, all concerts are free with many opportunities to meet the stars of the concerts.
Schedule
5:00 – 5:30pm Ellipsis (Rock)
5:45 – 6:15 – Texas Pete and The Revolutions (Rock)
6:30 – 7:00 Home Town (Country)
7:00 – 8:00 Intermission
8:00 – 8:30 Candor (Rock)
8:45 – 9:15 The Boy Detective (Rock)