The La-Z-Boy Family Concert Series
Celebrating 40 Years of Family Entertainment
located in the new and heated Christmas in Ida Theater Center
Presented by
Philbeck Foundation
Country Music Concert
Diamond Rio

Diamond Rio to Perform at Christmas in Ida
The 40th Anniversary of Christmas will celebrate with country music legend and all-time country music favorite Diamond Rio presented by Meijer, Inc.
Diamond Rio will perform their top hits Meet in the Middle, One More Day, Beautiful Mess, Unbelievable, How Your Love Makes Me Feel, I Believe, and music from their Holiday collection titled A Diamond Rio Christmas: The Star Still Shines.
Performing over thirty years with its original six members Marty Roe, Gene Johnson, Jimmy Olander, Brian Prout, Dan Truman, and Dana Williams they continue to tour throughout the world entertaining their audiences with their blend of mainstream country, bluegrass, country
pop and Christian country music that delights their fans with exceptional music and harmony.
In 1991 the release of Meet in the Middle Diamond Rio became the first country music group in history to reach No.1 on the Billboard Hot Country Songs with a debut single. The iconic song One More Day spent two non-consecutive weeks at No. 1 on the country charts and became a popular song of healing and hope after 9/11.
Diamond Rio has long been one of country music's most successful groups. The band has three Platinum-and five Gold Records. The band has charted thirty-two singles and nine studio albums while scoring nine No. 1 hits and placed 15 singles in the Top Five.
Diamond Rio received the Country Music Association's Vocal Group of the Year award and the Academy of Country Music's award for Top Vocal Group six times. Diamond Rio received their first Grammy Award for Best Southern Country and Bluegrass Gospel Album in 2011
and was inducted into the Grand Ole Opry in 1998. The band has sold more than ten million records and received the Minnie Pearl Humanitarian Award in recognition of their many charitable endeavors, including their longtime relationship as National Spokespersons for Big Brothers Big Sisters.
Details:
DAY: Saturday, Dec. 3, 2022
TIME: 5:00 PM | COST: Free
LOCATION: Ida Township Parking Lot – Downtown on Lewis Avenue
Young Country Music Concert
Laci Kaye Booth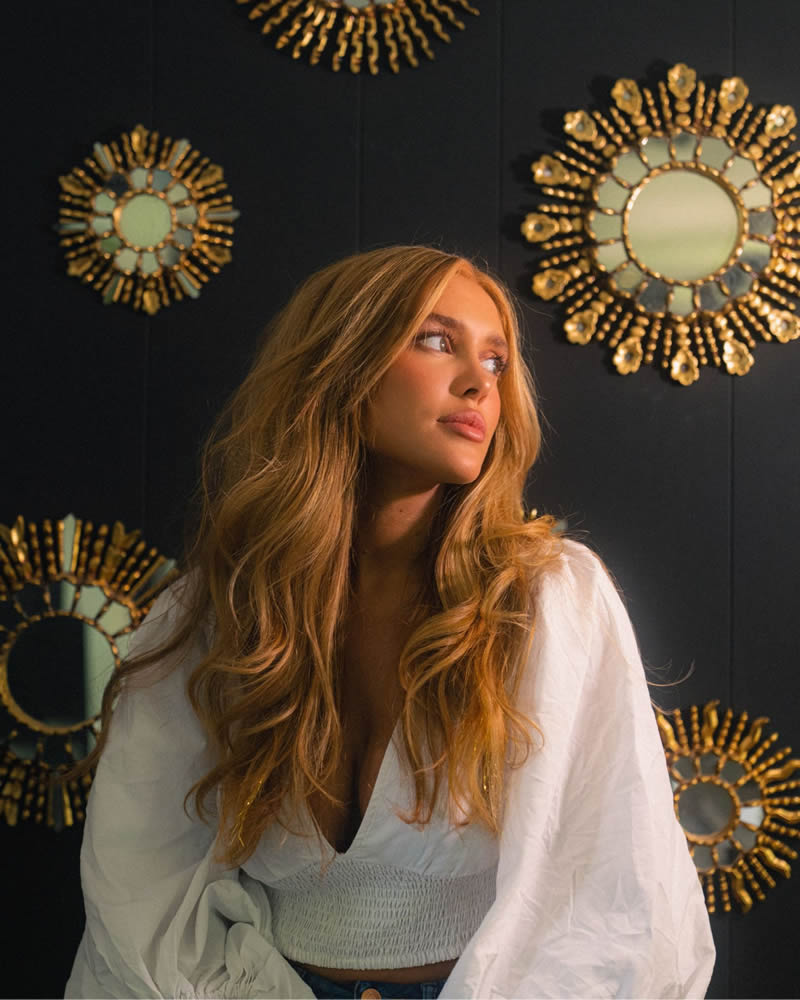 Laci Kaye Booth Opens for Diamond Rio
The Young County Concert will feature the talented Laci Kaye Booth presented by Monroe Dodge Chrysler Jeep Superstore.
Originally from Texas, Booth made heads turn with her unique, smokey, textured vocals as she made her way into the Top 5 on season 2 of American Idol on ABC. Following the show, singer/songwriter hit the Nashville ground running, releasing her debut collection of music, a dreamy, ethereal fusion of country-style music, and creating a name for herself as a gifted artist and songwriter. Booth has since shared
the stage with artists like Riley Green, Jordan Davis, and Midland. Known for her blend of raw and velvety vocals alongside her personal, heartfelt lyrics that fuse themes of love and longing alongside echoes of country influences, Booth has already made an impressive stamp on the country music scene.
The Country Concerts will be held Saturday, Dec. 3 starting at 3:45 pm in the heated outdoor Christmas in Ida Theater Center, presented by the Patriot Group, and located in the Ida Township Fire Department parking lot.
In keeping with tradition, all concerts are free. Seating will be available on a first-come, first-serve basis. Patrons wishing to bring chairs may do so. The Saturday concerts are produced by Mike Hennig of TRS Productions of Toledo.
There will be a public meet and greet for the stars of the Young Country Concert directly after the concert in the Partners Tent presented by First Merchant Bank.
Details

:
DAY: Saturday, Dec. 3, 2022
TIME: 4:00 PM | COST: Free
LOCATION: Ida Township Parking Lot – Downtown on Lewis Avenue
Public Meet and Greet after Concert Located in the Partners Tent
Friday Night Commemorative Concert
To Be Announced
Presented By:
Senator Dale W. Zorn,
State Representative Joe Bellino
William Bruck
Dale Biniecki

Details:
DAY: Friday, Dec. 2, 2022
TIME: 7:00 PM
LOCATION: Ida United Methodist Church – Ida East Road
RECEPTION: Immediately following the Concert at St. Joseph Catholic Church Hall
In true Christmas in Ida tradition, all concerts are free with many opportunities to meet the stars of the concerts.