More Saturday Events & Tents
September 10, 2022
Christmas in Ida Theater Center Stage Shows and Entertainment
September 12, 2022
Commemorative Concert
Detroit Opera Youth Chorus
Presented By:


Representative Dale W. Zorn


Representative Joe Bellino
William Bruck
Dale Biniecki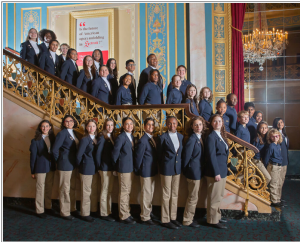 Detroit Opera Youth Choir in the Grand Lobby of the Detroit Opera House
The mission of the Detroit Opera Youth Chorus is to provide exceptional choral music and theatrical performance instruction in a professional environment to young people. This instruction will foster their creativity, personal expression, and social growth. Offering a curriculum that embraces diverse cultures and traditions and a rich and extensive range of musical genres, the program will seek to instill personal and artistic excellence in its students. In keeping with its role as a major cultural resource to the entire community, Detroit Opera will offer these unique learning opportunities to a diverse group of students from varied economic, cultural, and social backgrounds.
The Detroit Opera Youth Chorus performs as a separate ensemble as well as with international opera stars in Detroit Opera mainstage productions. Past performances have included the Detroit premiere of Seymour Barab's The Maker of Illusions, the Detroit premiere of Cary John Franklin's The Very Last Green Thing, Malcolm Williamson's The Happy Prince, Gilbert and Sullivan's H.M.S. Pinafore and Hans Krása's  Brundibár  with Ela Stein Weissberger, a Holocaust survivor and original cast member.
Other productions includes The Nutcracker at both the Detroit Opera House and the Fox Theatre and the mainstage productions for Michigan Opera Theatre's Carmen,
Tosca, La Bohème, The Magic Flute, and Carmina Burana.   The Detroit Opera Youth Chorus enjoyed guest concert appearances with Andre Rieu at the Fox Theatre, the Detroit premiere of Anne LeBaron's  Sukey,  a work for string quartet and children's choir with the Scarab Chamber Ensemble at Marygrove College and Wayne State University, and The Star Spangled Banner and God Bless America at several Detroit Tigers' Games at Comerica Park.
Community appearances have included numerous holiday presentations in the Detroit Metropolitan area, America's Thanksgiving Day Parade, Random Acts of Culture throughout Detroit and the Detroit and Partridge Creek Tree Lighting Ceremonies.  The chorus  were invited to perform in concerts for the Franklin Community Church's Vespers Concert Series and previously at the Christmas in Ida Festival
The Detroit Opera Youth Chorus is directed by Detroit Opera Chorus Master Suzanne Mallare Acton,  Assistant Directors Dianna and Jane Panikkar.
Details:
DATE: Friday, Dec. 1, 2023
TIME:  7:00 PM
LOCATION: St. Joseph Catholic Church -8295 Van Aiken Street
RECEPTION: Immediately following the Concert at St. Joseph Catholic Church Hall
ADMISSION: FREE
Christmas in Ida opens its doors to the world on Friday evening with the popular Commemorative Concert now in its sixteenth year.
In true Christmas in Ida spirit and tradition, all concerts are free with many opportunities to meet the stars of the concerts.
December 1 @ 7:00 pm
St. Joseph Catholic Church