Children's Lunch with Santa 11:00 am
August 21, 2022
Holiday Hounds on Parade & Photos
August 21, 2022
Light Up the Night Fun Run
Hosted by
Ida Links Program
Details:
DAY: Saturday, Dec. 2, 2023
RACE TIME: 6:00 PM -Be at the start line by 5:55pm
CHECK-IN: : 5:00 PM Ida High School Cafeteria
LINE-UP: 5:55 PM Front of Ida Elementary School
RUN LOCATION: Parade of Lights Route – Downtown District
ENTRY FEE: $20.00 by 11/10/2023 after this date, t-shirts may not be available.
***$20 ENTRY FEE INCLUDES T-SHIRT AND LIGHT UP NECKLACE
***$25 ENTRY FEE FOR SWEATSHIRT AND LIGHT UP NECKLACE
**REGISTRATION ALSO AVAILABLE THE DAY OF THE RUN**
Runners or walkers are required to "Light Up"

.
Use battery-powered lights, flashlights, reflective material, or provided glow necklace.
PRIZES AWARDED FOR BEST LIT AND DECORATED!
Length of the run or walk is one and one-quarter mile that follows the parade route.
The "Light Up the Night Run" is held on Saturday, December 2 before the Parade of Lights and is a benefit for the Ida Links Program which provides peer-to-peer mentoring within the district. The fun run/walk will precede the start of the Christmas in Ida Parade of Lights and is held during the Family Christmas Fireworks Show.
All runners and walkers ages 6 and over are welcome to participate. **Children ages 6 to 10 MUST be accompanied by an adult.**  
The "Light Up the Night Run" is sponsored by the Ida Links Program.
For more information call
Jen Black (h) 734-241-6252 or Tracey LoPresto (419) 297-9757.

2023 Light Up The Night Links Registration Form.docx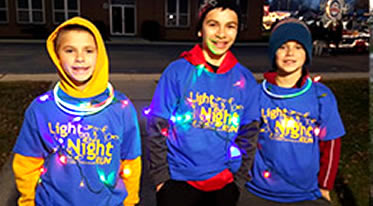 December 2 @ 6:00 pm
Lewis Avenue