Ida Public School Christmas Collage Concert
August 22, 2022
Downtown Craft & Vendor Show (Friday)
September 4, 2022
Holiday Art on the Avenue
Presented by



Details:
DAY:  Friday, December 1, 2023
TIME: 6:00 PM – 9:00 PM
LOCATION: St. Joseph Catholic Church – Van Aiken St.
DAY: Saturday, December 2, 2023
TIME: 10:00 AM – 8:00 PM
LOCATION: Partner Tent – Downtown on Lewis Avenue
Join the excitement of an American Christmas Classic
Christmas in Ida continues cultural event, the 4th Annual Holiday Art on the Avenue presented by Family Medical Centers of Michigan. Professional and amateur artists will be commissioned to paint a Christmas scene on canvas that magically comes to life.
The art will be on display Friday evening Dec. 1, at St. Joseph Catholic Church Hall during the Commemorative Concert and all-day Saturday, Dec. 2, downtown in the Partners Tent. The artists will be with their work on Saturday between 1:00 pm and 2:40 pm where show attendees are encouraged to visit with the artists.
Festival visitors will have the opportunity to vote for their favorite masterpiece. The three top artists will receive cash prizes.
There will also be a children's Make and Take area where children can create and decorate their own small personal Christmas ornaments.
Sponsor and Partnership packages are available with very special benefits and can be found in the Sponsorship TAB.
It's a fascinating art experience!
See Applications, Partnership, and Sponsorship Tab for Application (downloadable) and On-Line Application.
For more information concerning the show or sponsorships contact:
Christmas in Ida Festival
Dale W. Zorn, Executive Director
(H) 734-269-6175 (C) 734-735-0576
Email: dwz@d-pcomm.net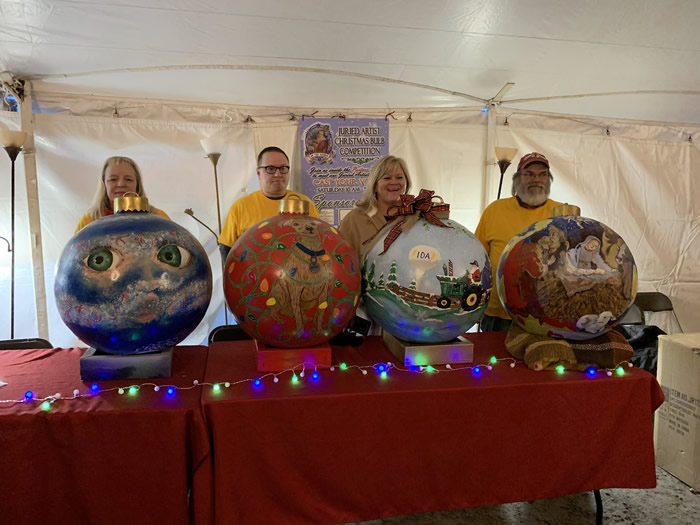 December 1 @ 6:00 pm — December 2 @ 8:00 pm
Christmas Mall